Start sales in 4 easy steps
Upload your work
Add description and price
---
Add your design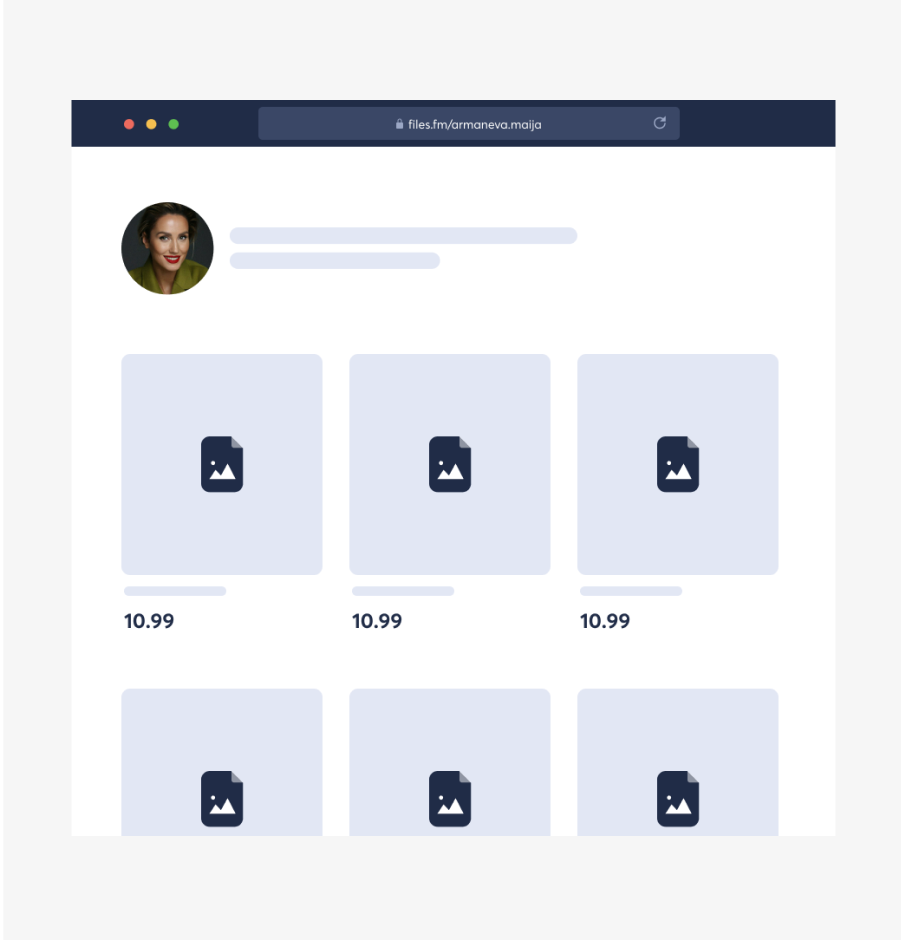 Sell and receive payments
Sell in 5 ways
With a private product link
Send a private purchase link and get paid
Via your public profile
Publish products in your store
On your social media
Share the link on your social networks
On your website
Integrate files.fm within your existing website and start selling instantly.
On Files.fm marketplace
Design Your products and get discovered by our community
No hidden fees
We take 10% commission to support the platform and client pays 0.29 payment fee.
This is how you make money
Get started free
* Client pays for transaction 0.29 $
Tietosuunnitelmat
Basic
$0/mo
5GB cloud storage
Your public store
Payments
e-signature
---
Pro
$4,9/mo
10GB file size supported
250GB cloud storage
Custom branding
Password protection
Access control
Unlimited p2p data traffic
Embedd content on websites
No ads
---
Business
$10/mo
All Pro features
Transfer up to 30GB
Multiple users
File versioning control
180 day file recovery
Two Factor Authentication security
Invoicing
File Sync and Automation
Business tech support
Enterprise
from $99/mo
E-signing, document management and templates, external and internal user group management, enhanced security of data exchange.
Contact sales
Top answers about features
Payments
Integroidut VISA- ja Mastercard-maksut. Asennusta ei tarvita.
Reports
Reports are available for all transactions, views, purchases and download statistics.
Mikä tahansa sisältötyyppi
Tuemme kaikkia tiedostomuotoja ja -kokoja: Valokuva, Video, Ääni, Asiakirjat, Esitykset, Kirjat, Vektorit ja Muut.
Discoverable
Saatamme esitellä tuotteitasi palvelun käyttäjille sisältömarkkinoillamme!
Passiivinen tulo
Perustaa kauppa, postita hyödyllistä sisältöä, kuvaile sitä ja ansaitse 24/7 mistä tahansa!
Rahamaksut
Rahat tallennetaan välittömästi käyttäjätilillesi jokaisen myynnin jälkeen. Voit vastaanottaa maksuja IBAN-pankkitilille tai Paypalille.
Katselut tai lataukset
Myy näkymiä tai latauksia. Sisältö on saatavilla ostajan tilillä heti maksun suorittamisen jälkeen.
Multilanguage
Käyttöliittymä on saatavana englanniksi, espanjaksi, saksaksi ja venäjäksi, joten voit myydä kansainvälisesti!
Search
Tuemme tunnisteita. Kuvaus on hakukoneystävällinen. Käyttäjät voivat löytää sisältösi kirjastosta.
Luo tili, lataa sisältöä ja määritä verkkokauppa!
---
Familiarize yourself with the terms and legal details